"Real tears are not those that fall from our eyes
and cover our face but those that fall from our heart and cover our Soul"
This memorial website was created in the memory of our loved one, Mrika Gjelaj who was born as Mrika Rudaj daughter of Kola and Lula, in Shtoj, Ulqin in Yugoslavia on September 07, 1947 and passed away on September 14, 1996 at the age of 49.
In the arms of an angel, Mom was silently flown away on September 14, 1996 in the early morning, a few days after she was diagnosed with leukemia. She was pulled from the hurt of cancer, graciously taken from her pain then tenderly placed into the arms of our healing Savior. God held her, caressed her head, wiped her tears and made her whole. No more pain, no more tears. We will remember her forever.
Our Mom was a beautiful woman inside and out. She was kind, considerate, warm, loving and caring to all her family. She was the "perfect" mother. She treated everyone's children as if they were her own and that is why they all called her Mom. She never liked to take pictures but thank God we had them to share her memories. Her smile lit up a room. Always tending to her children and giving them the best of everything. She gave little to herself and much to everyone she knew.
She was a beloved mother, wife, daughter, sister, sisterinlaw, aunt, friend to all who had the lucky opportunity to have had her in their lives! Her legacy is her love she left behind and memories we will treasure forever.
She had been having severe fatigue and migraines the last few months of her life. She passed out home and was rushed to the hospital, the Catscans proved that she had Leukemia, we were all in disbelief and we felt so helpless. They started the chemo and morphine and told us she only had about 72 hours to live. The doctors were right because exactly the third day at Montefiore Hospital, she passed away. Our lives will never be the same. But our devoted love and memories will last forever!
My Purpose
I had leukemia and there is no explanation
as to why I got sick.
All I know is God has a plan for each of us and
for each plan there is a purpose.
Some of us know what our purpose in
life is and others will never find it.
Then there are those like me who accomplish
it without ever realizing it.
My journey with cancer will not and has
not been without purpose,
It is through my illness that I have helped doctors
understand this disease a little more
so they may find a cure.
It is through my illness that I have opened the
eyes to those around me to how precious life really is.
Something we all too often take for granted.
It is through my illness that some of those
around me have realized that life is
too short to be afraid of our feelings.
My cancer has been beaten back by the power of love.
It is the most powerful of emotions,
one not to be afraid of, but to be embraced.
To be loved by someone unconditionally and completely
is to reach into your soul and feel warmth.
It is through my illness that I have shown
there is no guarantee for the future only dreams for it.
Whether the future is just another day or another 75 years,
we should all dream big and live fully everyday.
It is through my illness that I have seen the strong cry,
only to find more strength.
It is through my illness that some of us who haven't
talk to God in a while have once again begun to pray.
It is through my illness that I have joined the
hands of those familiar to those of strangers,
to form one long chain.
I have already accomplished so much in such
a short amount of time and each day I continue
to touch the hearts of many.
This was my purpose!


Loved Ones She Left Behind:
Husband Toma Gjelaj


Seven Children:
Vicky, Justina, Maria, Zef, Donna, Anthony, Gloria,our angel sister Pashka who is safely in her arms now.
13 Children: Chris , Diana, Alex, Angela, Victor, Paulie, Jonathan, Joseph, Tommy, Bella, Olivia, Jozef & John
Motherinlaw Mara
who are together now, they loved each other so much


Sister: Toshja (tezja) Only loving sister
Brothers: Pjetri, Nika and Noci (Pjetri joined her)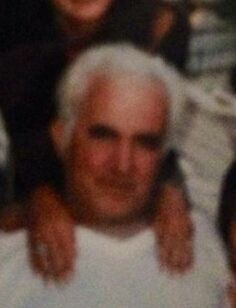 Brotherinlaws: Mark, Jimmy, and Peter Daja and their families.
Sisterinlaws: Hana, Butja and Diella and their families
The Cord
We are connected, my mother and I,
by an invisible cord not seen by the eye.
It's not like the cord that connects us at birth,
this cord can't be seen by any on earth.
This cord does its work right from the start,
it binds us together, attached by the heart.
I know that it's there, though no one can see
this invisible cord, from my mother to me.
The strength of this cord,
it's hard to describe,
it can't be destroyed, it can't be denied.
It's stronger than any cord man could create;
it withstands the test, can hold any weight.
And though you are gone and you're not
here with me,
the cord is still there though no one can see.
It pulls at my heart, I am bruised, I am sore,
but this cord is my lifeline as never before.
I'm thankful that God connects us this way,
a Mother and Child.... Death can't take it away!


Afterglow
I'd like the memory of me to be a happy one.
I'd like to leave an Afterglow of smiles when the day is done.
I'd like to leave an echo . . .
Whispering softly down the ways of happy times and laughing times and bright and sunny days.
I'd like the tears of those who
grieve to dry before the sun of
happy memories that I leave behind when
day is done.


But most of all she left behind tears that will never stop shedding for her....her children's tears...it happened suddenly and she was taken from us much too quickly...our broken hearts will never mend until we meet again!


Mom was very religious. She always kept her faith and went to church every Sunday.



Did You Wonder?
(Poem Written by Daughter Maria)
While you walked up the stairs towards
the golden gate,
Did you stop and ask God "please, Dear Lord wait,
Did you know your children would cry
Or were you in such pain you wanted to die,
Did it hurt to see the tears we have wept,
Or the lonely nights we haven't slept,
Did you know more grand children will be born,
Even though our hearts will forever mourn,
Did you know your first born son had 2 boys,
Jozef and John who are such joys,
Joey, Tommy, Alex, Bella, Angela and
Olivia were born,
even though our hearts are still torn,
Did you wonder about us, mom,
Or about your husband Tom,
How your death has made him old,
even though he tries to be bold,
Did you wonder will my children suffer?
For we have loved you like no other,
Who will comfort them when they cry?
Who will wipe away their tears to dry?
Who will love them when they need me?
Who will ever answer their plea?
Who will guide them when they are sad and blue?
Who will tell them my death is true?
Will they forget to mention my name?
For I did not die in vain,
Will you be there to welcome us with open arms,
When our last breath comes?
Will you hug and kiss us tight,
And tell us everything will be alright?
Will you be the one to take us home,
Where we will never be alone?
(Mom replied:)
My love for you is like an eternal flame,
Whenever you need me just call my name.
My legacy shall forever live,
For my love and protection that I will always give,
I did not want to go away,
But God called me home to stay,
My body was in such pain,
please dont forget to say my name,
I will make a promise to you,
That I will guide you through and through,
Please do not forget to pray,
I will be there each and every day,
I will be your guardian angel light,
To guide you each day and night,"
I will wipe away your tears,
And calm away all your fears,
And when the time comes to meet again,
It is I that will greet you and take your hand,
We will stand together side by side,
In God's home we will eternally reside,
For "I am your Mother".
Who has loved you like no other!



Come with Me
The Lord saw you getting tired
And a cure was not to be,
So He put his arms around you
And whispered, "Mrik, Come with me."
With tearful eyes, we watched you suffer
And saw you fade away,
Although we loved you dearly,
We could not make you stay.
A golden heart stopped beating,
A beautiful smile at rest,
God broke our hearts to prove
He only takes the best.
It's lonesome here without you
We miss you so each day,
Our lives aren't the same
Since you went away.
When days are sad and lonely,
And everything goes wrong,
We seem to hear you whisper,
"Cheer up and carry on."
Each time we see your picture,
You seem to smile and say,
"Don't cry, I'm in God's keeping,
We'll meet again someday."



When I am Gone
When I am gone, release me, let me go.
I have so many things to see and do.
You mustn't tie yourself to me with tears.
Be thankful for our beautiful years.
I gave you my love, you can only guess
How much you gave me in happiness.
I thank you for love you have shown,
But now it's time I traveled on alone.
So grieve a while for me, if grieve you must.
Then let your grief be comforted by trust.
It's only for a time that we must past.
So bless the memories within your heart.
I won't be far away, for life goes on.
So if you need me, call and I will come.
Though you can't see or touch me, I'll be near
And if you listen with your heart, you'll hear
All my love around you soft and clear.
And then when you must come this way alone,
I'll greet you with a smile and say
"Welcome Home."




Psalm 23: 1-6
The LORD is my shepherd, I shall not be in want. He makes me lie down in green pastures, he leads me beside quiet waters, he restores my soul. He guides me in paths of righteousness for his name's sake. Even though I walk through the valley of the shadow of death, I will fear no evil, for you are with me, your rod and your staff, they comfort me. You prepare a table before me in the presence of my enemies. You anoint my head with oil, my cup overflows. Surely goodness and love will follow me all the days of my life, and I will dwell in the house of the LORD forever.



When Tomorrow Starts Without Me
When tomorrow starts without me,
and I'm not there to see;
If the sun should rise and find your eyes,
all filled with tears for me;
I wish so much you wouldn't cry,
the way you did today,
while thinking of the many things,
we didn't get to say.
I know how much you love me,
as much as I love you,
and each time that you think of me,
I know you'll miss me too;
But when tomorrow starts without me,
please try to understand,
that an angel came and called my name,
and took me by the hand,
and said my place was ready,
in heaven far above,
and that I'd have to leave behind,
all those I dearly love.
But as I turned to walk away,
a tear fell from my eye,
for all life, I'd always thought,
I didn't want to die.
I had so much to live for,
so much yet to do,
it seemed almost impossible,
that I was leaving you.
I thought of all the yesterdays,
the good ones and the bad,
I thought of all the love we shared,
and all the fun we had.
If I could relive yesterday,
just even for awhile,
I'd say goodbye and kiss you
and maybe see you smile.
But then I fully realized,
that this could never be,
for emptiness and memories,
would take the place of me.
And when I thought of worldly things,
I might miss come tomorrow,
I thought of you, and when I did,
my heart was filled with sorrow.
But when I walked through heaven's gates,
I felt so much at home.
When God looked down and smiled at me,
from His great golden throne,
He said, "This is eternity,
and all I've promised you".
Today for life on earth is past,
but here it starts anew.
I promise no tomorrow,
but today will always last,
and since each day's the same day,
there's no longing for the past.
But you have been so faithful,
so trusting and so true.
Though there were times you did some things, you knew you shouldn't do.
But you have been forgiven
and now at last you're free.
So won't you take my hand
and share my life with me?
So when tomorrow starts without me,
don't think we're far apart,
for every time you think of me,
I'm right here, in your heart.





Its not good-bye, its we'll see you later MOM!
* * * * * * * * * * * * * * * * *

Please donate to St. Jude's:Give these children the hope and will to fight leukemia and other deadly cancers http://www.stjude.org/